Final Random Inspection (FRI).

FRI is to evaluate the problems against 100% finished & packed goods. FRI is very useful standard Quality assurance check prior to shipment. For evaluation of final products to be shipped, FRI is conducted for appearance, quantity, quality, size, specification, color and packing method/details. After FRI client has very clear picture for his in coming products.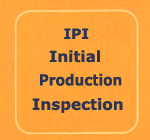 Initial Production Inspection. (IPI)

IPI takes place when approximately 10-20 % of total ordered quantity is produced. Production status is verified at this stage. Performing an IPI is a preventative steps after that client has sufficient time to make decisions about production components, product quality and apply corrective actions where required.
During Production Inspection (DUPRO)

DUPRO takes place when approximately 30 to 50% production is completed, re-ensuring that initial discrepancies have been rectified and a check on the average quality of production runs. The main benefit of this inspection is that it allows another chance to apply corrective actions where necessary.